Billboards For Christ - North Shore
Proclaiming Christ on the North Shore
Ministry Profile Frequently Asked Questions Testimony Contact
Frequently Asked Questions
Click on each question to see the answer.
| | |
| --- | --- |
| | Who is God? |
| | Who is Christ? |
| | Is Jesus the Messiah? |
| | What is Salvation? |
North Shore Testimony, a sign from God
On July 7th, 2007, during a recent trip to Oklahoma for the Lord, I had been driving some 15 hours the first day. I was tired and not 100% sure of why I was going where I was headed, other than the Lord had asked me to. So my heart started to sink. I prayed, "Oh precious Jesus, if am I your servant and am doing Your will Lord, please Father, show me a sign." As I crested the next hill, there was this giant billboard proclaiming Jesus Christ as Lord and Savior.
I can't begin to tell you how much it lifted my spirit! I began to cry and then praised Jesus Christ for Who He is. Twenty miles down the road there was another one, "Jesus loves you". And still another, and another one, Praise God! On my way home it was the same way on the other side of the highway. I was so encouraged! Soaring under His wings and protection, I headed home.
The Lord put the desire in my heart for billboards for Christ - North Shore. I didn't understand what He was doing in my life. So, I prayed, "Lord, what is it that you would have me do with this?" Next I called our pastor and met with him the next day. "Research", he said, "Do more research."
So as I did, I found an already established ministry of posting God's Word on billboards called "Billboards for Christ, Inc." God led me to the website of www.BillboardsforChrist.org! I filled out the comment page immediately, not expecting to hear from anyone for several days at best. I fell to my knees in prayer and worship.
Not ten minutes went by when the phone rang. It was Crystal. I told her my story and she replied, "Dennis I have been praying for two years that God would raise up people in Boston who would have a heart for God and His Word and would post God's Word on billboards to touch people's hearts!" "I'm a carpenter," I explained, "I don't know any thing about billboards." Crystal responded, "God puts His desire in the heart of His children and then He fulfills that desire for His great purpose and glory alone, in and through His children. (Ps 37:4, Ezekiel 11:19-20 , Ezekiel 36:26, John 15:26, John 3:5) Then we prayed, we worshiped Jesus the Lord, and I cried a lot because of the great move of the Holy Spirit. One week later BFC - North Shore is on its way. One more thing, be careful what you pray for - I was praying the prayer of Jabez. 1 Chronicles 4:10
Your loving servant, Dennis Jolly
The state of Massachusetts, USA -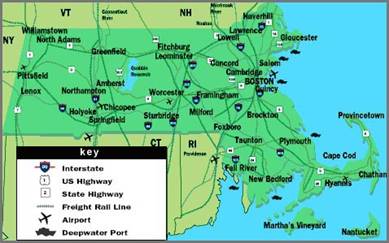 (From - http://www.agimmobilier.com/images/small/Map_Massachusetts.jpg)
Bring me to NorthShore home page or NorthShore inquiry form.