Praise be to the Lord Jesus Christ for His indescribable Gift!!
Below are the copies of the Word of God posted on billboards! These billboards are posted in seven major cities in the U. S. A.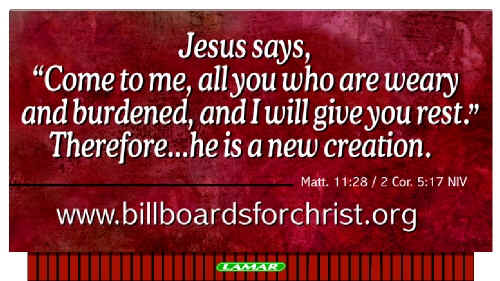 14 feet by 48 feet

12 feet by 24 feet
Please tell me, what does "Come to me..." mean?
Please tell me, what does "New Creation" mean?
The Cities where Billboards for Christ are already posted are: Atlanta, Ga., Austin, Tx., Bridgeport Ct., Indianapolis, In., Nashville, Tn., Providence, RI. and Richmond, Va.
The Cities that have asked for Billboards for Christ to be posted on them are: Chicago, Ill.; Phoenix, AZ; Waterbury, CT.; Springfield, Mass.; Columbus, OH.; Erie, PA; Orlando, Florida; Albany, NY; Syracuse, NY which has viewing for Canadian traffic; Pittsburgh, PA; Ozarks, Missouri; Slidell, La; Houston, TX. We are still not in these cities. We need your help!
If you would like to sponsor one of these cities, please write our Feedback.
I would like to see your list of Bumper Stickers.
If you would like to be placed on our e-mailing list to receive our newsletter, please let us know on our feedback page.
Bring me to What is BFC or to Costs of Billboards or Back to Billboards